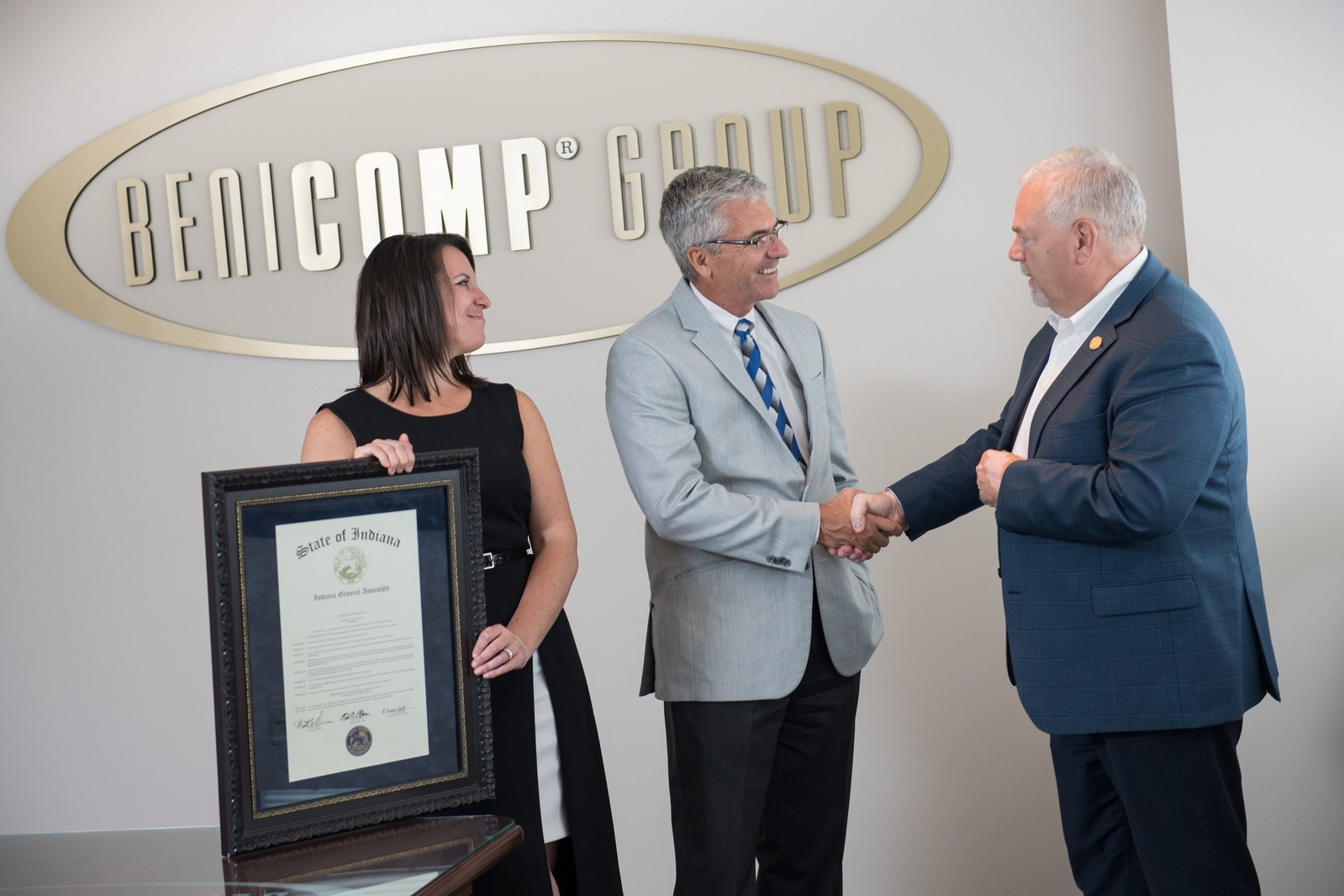 Progressive health insurance company celebrates 55 years of continued service
FORT WAYNE, Ind., June 21, 2017
2017 adds a new milestone for Indiana-born insurance company, BeniComp. Established in 1962 by Fort Wayne resident, Donald L. Short, BeniComp celebrates 55 years of business stability under the leadership of second-generation family business owner, Doug Short.
Indiana House Majority Leader, Matt Lehman, presented a commemoration of achievement to Doug Short and BeniComp for continued success throughout the years during a celebration at BeniComp's Fort Wayne office.
"I look at Doug as someone that we're going to rely on as we look at the ACA and what's going to happen in the state of Indiana," Lehman said. "We will have to make some changes. Those of us who are elected officials will bring people like Doug who can bring that passion and that knowledge outside the box. Doug can help Indiana implement reforms that will improve coverage and affordability by helping us redefine insurance for future generations of Hoosiers."
"The knowledge we've gained from our large client base over the years has allowed us to purpose-build innovative health insurance solutions that identify health risks early - before they become claims," said BeniComp President, Doug Short. "We combine the right mix of intuitive technology and actionable data to lower trend with meaningful outcome-based incentives."
By coupling an HDHP with outcome-based deductible incentives, BeniComp provides employers the ability to identify, realign, and manage their risk in order to truly control the cost of health insurance premiums.
About BeniComp
Founded in 1962, BeniCompⓇ is a full captive insurance company offering health insurance solutions in nearly all 50 states. Now spanning three generations, BeniComp's services have received numerous awards for innovation and best practices and include: BeniComp Advantage, BeniComp Select, and IncentiCare. BeniComp has been featured in Forbes Magazine, Employee Benefit News, The Wall Street Journal, USA Today, Medscape and other publications for its solutions. For more information about BeniComp, visit www.benicomp.com.