Preventive health management insurance helped this Florida County save thousands in premiums and enjoy a flat renewal rate.
TAMPA, FL -- Like many counties in America, one Northern Florida county was seeking a solution to rising health insurance costs. Faced with another increase, the options were raising premiums or decreasing benefits. In an effort to continue comprehensive coverage for employees while maintaining fiscal responsibility with taxpayer money, the choice was made to raise the health plan deductible. However, raising the deductible to lower the cost of the plan for one year was only a temporary solution that also created greater financial stress on employees. Without addressing claims, they would again face rising health insurance costs.
BeniComp Advantage is a supplemental, preventive health management (PHM) insurance product that rewards participants for meeting or exceeding health goals based on annual biometric screenings. After creating a customized strategy with BeniComp, the County used BeniComp Advantage to empower employees to earn a low deductible. Instead of a 5% increase, the premiums decreased by 22%, resulting in first year savings of over $182,000. Decreasing the number, size, and frequency of claims led to two years of total health insurance premium decreases at a time when most companies experience double digit increases.
Since implementing BeniComp Advantage, the County has saved $8,357 per participant for a total of $651,842.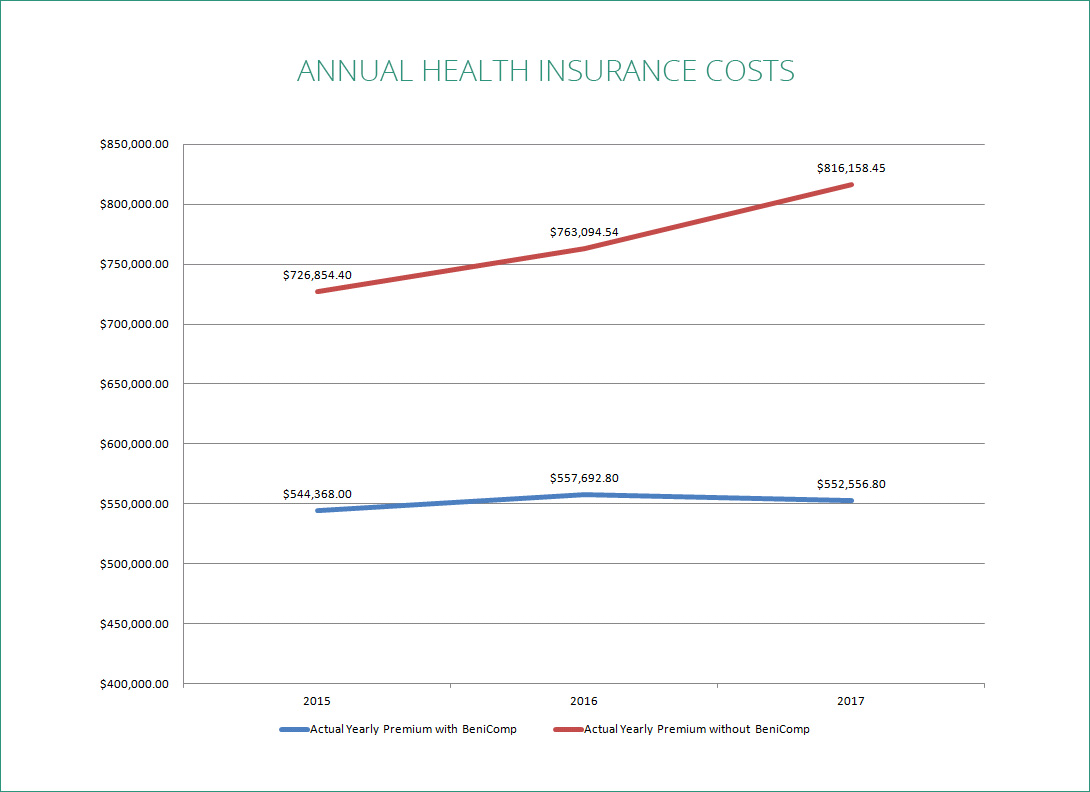 BeniComp Advantage uses a preventive health approach that begins with an on-site health screening, and includes outcome-based incentives. Like a good driver discount, employees who participate in the screening, and demonstrate a lower risk in body mass index (BMI), blood pressure, cholesterol, glucose and nicotine, are rewarded with a
lower deductible. All participating County employees, regardless of screening results and risk, enjoy lower health insurance premiums.
Once the screening is complete, BeniComp health coaches, who are all registered nurses, proactively reach out to all participants with high-risk biomarkers. Nurses answer questions, educate participants on preventive health and associated risk factors, and work with participants to create customized plans to help them meet their health goals.
With two full years of health screening and claims information, it is easy to see why the County is saving money. While the average American adult gains 6.5 pounds per year, the County's employees lost weight, quit smoking, and improved their cholesterol. Remarkably, 73% of participants improved fasting blood sugar levels. Healthy changes like these can have profound effects on chronic diseases such as diabetes, heart disease, and cancer. Many employees have been extremely pleased with their newfound healthy lifestyles.
The County is now entering their third year with BeniComp. With total healthcare spend 32% less than the trended projection, employees can enjoy a comprehensive and preventive benefit that is sustainable for the foreseeable future, and taxpayers can rest assured their tax dollars are being well spent.
###
ABOUT BENICOMP
Founded in 1962, BeniComp later expanded its services to include BeniComp Advantage, a supplemental group health insurance product that identifies health risks early and aims to proactively improve health in America. Offering employee wellness solutions nationwide, BeniComp's patent-pending policy has received numerous awards for innovation and best practices. BeniComp has been featured in Forbes Magazine, Employee Benefit News, The Wall Street Journal, USA Today, Medscape, and other publications for its innovative approach to providing solutions. For more information about BeniComp, visit www.benicomp.com.