Like many employers today, one Arkansas County was struggling to provide an attractive health insurance benefit plan to its current and prospective employees. The cost of insurance and their experience with
a self-funded plan created a dilemma that would have hindered their ability to provide even catastrophic coverage to the members of their plan.
The anticipated increase in premiums, in addition to the reduction in benefits, would have adversely affected the take home pay of every single employee, regardless of whether or not they were on the plan. In order to have funded their claims, they would have had to take from other discretionary lines, specifically payroll.
Simultaneously, they realized that the typical strategy of paying for increasing health insurance premiums would only work temporarily. In order to ensure a better future for their plan they would have to identify and deal with cost drivers, which ultimately was the size, number, and frequency of claims.
Overall Claim Spend Increased Dramatically
A two year claim review revealed some eye-opening facts. Additionally, their claim spend was increasing by over 1 million dollars a year.
Total claim lines had increased from 6,424 to 11,682 in oneyear
The average claim amount per participant was $6,574.55, a 50% increase in oneyear
The percentage of total claims that were considered catastrophic jumped from 13% to37%
In two years, they were spending 50% more just on pharmacycosts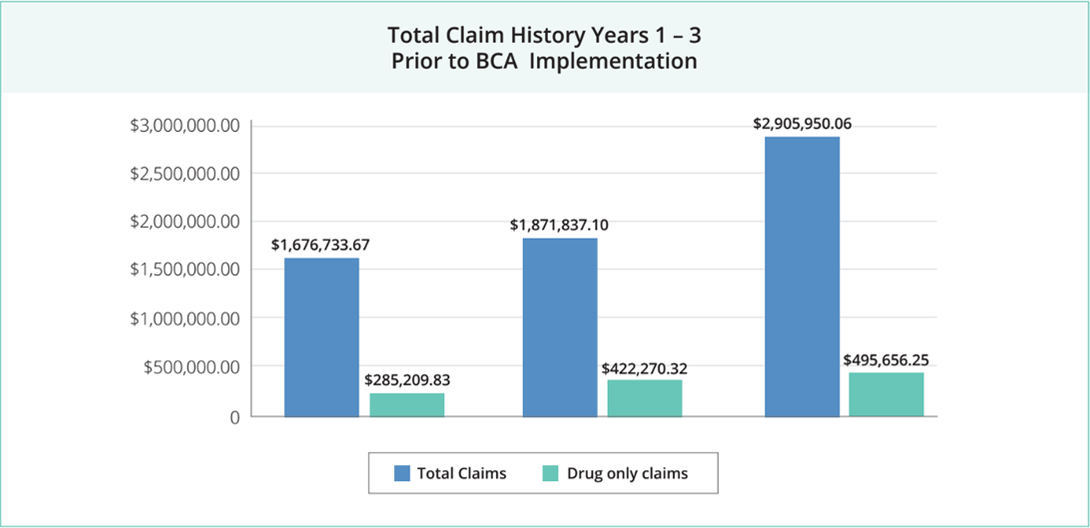 Employee Health Was Getting Worse
A further examination of employee health revealed:
44% of those tested in a recent employee health fair were in the two highest of five cardiac risk groups, and 5% had blood glucose levels outside normal limits without their knowledge.
The top five most prescribed medications to County employees treated these symptoms: high cholesterol, ulcers, diabetes, anddepression.
The top three most expensive treatments for employees treated the following illnesses in this order: heart disease, nonspecific respiratory symptoms, and weight-related osteoarthritis.
Three Options, Only One Solution
Based on the assessment, there were a couple paths they could take. First, they could find a way to fund their out of control claim costs in lieu of raises and new position requests. Second, they could make drastic benefit adjustments that included large premium increases and a reduction in paid benefits. However, neither of these options addressed the disease, only treated the symptoms.
The County's third-party administrator suggested BeniComp® Advantage, a supplemental program that utilizes the auto insurance industry model: discounts for good driving, individual rates, and rewards for clean records. The basic premise of the BeniComp® Advantage program is that the employer would increase their plan deductible significantly, and then allow employees to complete a confidential wellness screening. Based on the results of this screening, each employee would then be eligible for deductible reimbursements that could allow them to return to their original deductible amount.
The screening consists of five lifestyle measurements. For each one the employee satisfied, he/she was given a credit against the base plan deductible.

The County decided to use the most generous goal available. At the end of the year, the County could tighten up their standards to encourage employees to pay attention to their health at an ongoing rate. The screening took place onsite by qualified medical personnel. Employee results were kept strictly confidential.
Making employees aware of their own health was just the first goal. The County then shifted their focus to provide the tools for employees to improve on their newfound knowledge. They worked with a local fitness center to offer special discounts for employees, held a health and wellness fair, and provided a carotid artery ultrasound to identify risks for arterial blockage.
What the County found was that employees started organizing around healthy lifestyle activities on their own. They formed lunch hour walking groups, lunch time aerobic classes, and department wide weight loss challenges.
Significant Financial and Health Improvement in the First Six Months
Although they knew within a few months that the BeniComp® program was making a difference, it became very clear during their fall renewal process that improvement was quickly accelerating in regards to claim experience and expense.
After just six months, the County was already saving money in their claims fund and by nine months they had started to build a fund reserve of several hundred thousand dollars. When they sat down to plan for their second year, they realized not only would they not have to ask for a funding increase, they could also lower the deductible.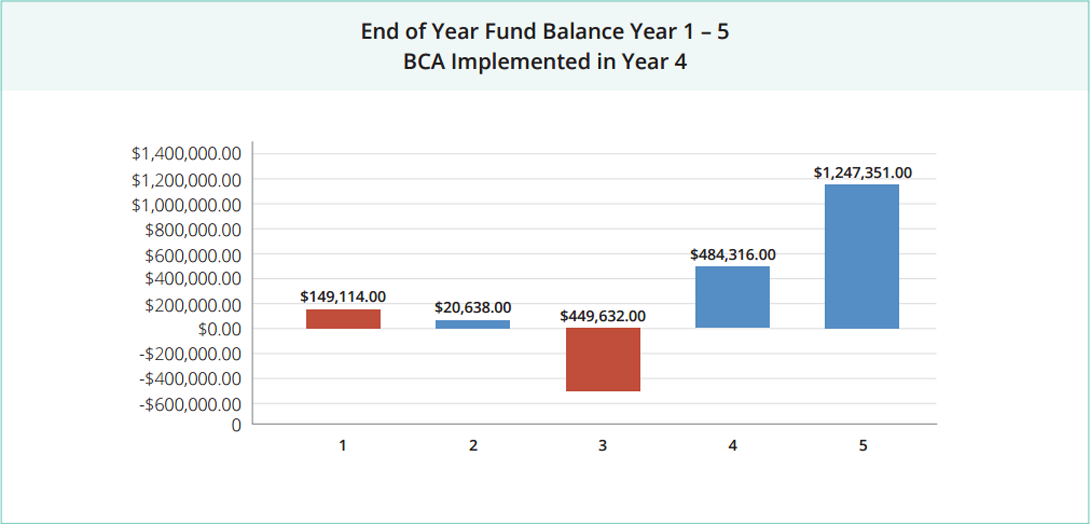 The average dollar amount per claim decreased and total claim spend decreased significantly. After just 15 months, the revenue saved in their health insurance fund represented a turnaround of nearly 1.7 million dollars. The interest alone earned on their fund balance paid for the testing fees and premiums associated with the BeniComp® Advantage program.
Suggestions for Employers in Similar Healthcare Situations
Focus on behaviors. This concept can be applied to so many different workplace strategies and it fits perfectly as a wellness solution. Do your employees have enough time during the day to make healthy eating choices? Can they find 15 minutes to be physically active in their work schedule?
Expecting employees to take ownership of their health. This is strategically important to your organization. The upheaval and resentment that comes with a stricter health plan is normal and not permanent. For the employer, there are other benefits relating to sick time, productivity, and morale.
A company's best change for a long-term health cost solution is found in the individual health of each employee. Improving the health awareness of your population is the richest vein that employers can strike, and, once it happens, it's possible to continue reaping the benefits for as long as you keep focusing on wellness. Every other option simply shifts costs.
Recognition and Public Applause
For the County's innovative approach to benefit administration, the Arkansas SHRM State Council awarded them the Best Practices Award.