While most employee wellness programs get 30% employee participation, BeniComp Advantage engages nearly 100% of the employee population through supplemental health insurance and deductible wellness incentives.
Tampa, FL April 12, 2016 - It's no secret that America has a health insurance problem. Rising health care costs and declining health has left companies struggling to provide the kind of health insurance employees had 10 years ago. Affordable Care Act customers turned out to be much sicker than anticipated, and now health insurance companies are seeking rate increases of 20-40% or more.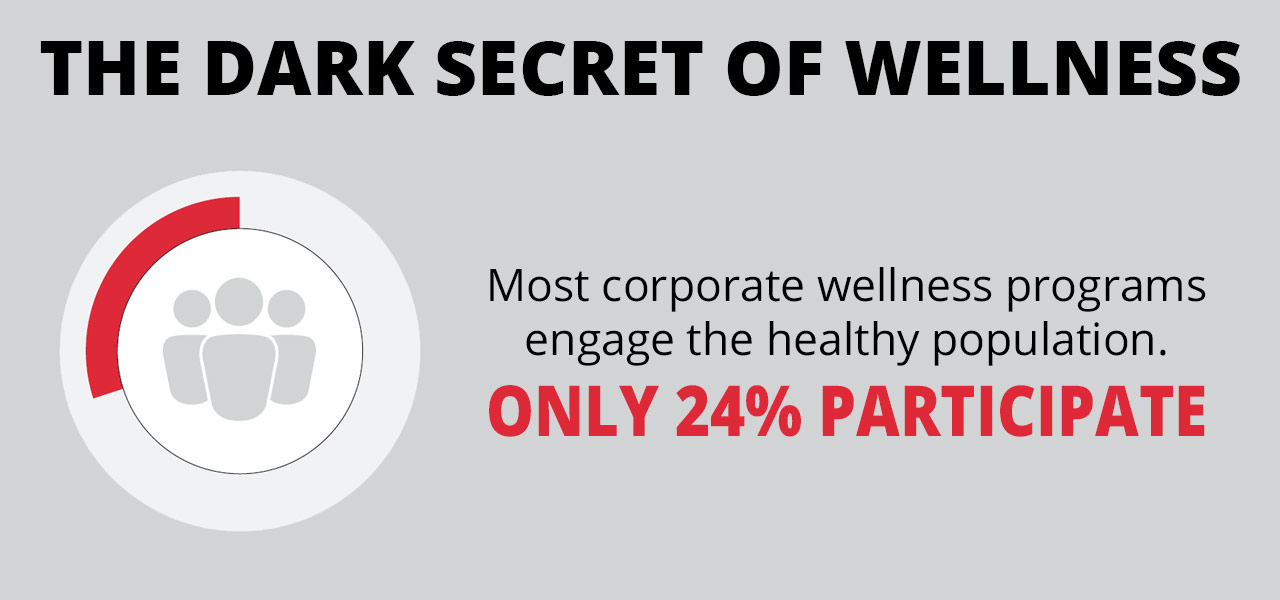 The industry's answer was to offer wellness programs designed to promote awareness, education, and lifestyle change. The programs have evolved into an overly saturated market of wearables, apps, and fun programs without accomplishing the original goals. A recent study by MetLife claims that nearly 75% of employers offer a wellness program1 but only 24% of employees actually participate.2 Worse yet, those who participate are primarily employees who have already adopted healthy lifestyles. The remaining participants are those with greater health risks. When cash incentives are used, the employer pays low-risk employees resulting in an expensive program with little to no improvement in employee health or reduction in health care claims.
Unhealthy Employees Do Not Participate in Voluntary Wellness Programs
The goals of wellness programs are noble, and some of the services are outstanding; however, the dark secret of the wellness world is that the services are provided to the low-risk population. Researchers at Oliver Wyman, a subsidiary of one of the largest global insurance consulting firms, Marsh & McLennan, say the solution for businesses to engaging the entire population is to "Stop treating wellness as an add-on to [the] business. Start making it the core of everything [they] do."3
For supplemental wellness programs to succeed and engage the majority of a group's population, employers need to build programs into the design of their health plan. BeniComp created a patent-pending, supplemental health insurance policy, called BeniComp Advantage. Their product not only makes health rewards outcome-based, but moves the financial incentives to the deductible.
Outcome-based incentives (OBI) are monetary rewards tied to lifestyle biomarkers such as BMI, cholesterol, nicotine, blood sugar, and blood pressure. Deductible-OBIs reward employees through the deductible. The result is over 95% participation. More importantly, OBIs decrease claims because employees are held accountable for their results. Similar to the good-driver car insurance discount, all employees are given the same supplemental health insurance plan, and have the ability to earn decreased deductibles by achieving health goals.
Deductible Outcome-Based Incentives are the Most Cost-Effective Type of Incentive
Deductible OBIs are the most cost-effective, engaging way for an employer to offer wellness incentives to employees. With traditional cash-equivalent or premium incentives, low-risk employees who are expected to have minimal claims end up costing the employer as much as those with higher risks. With deductible incentives, employers are able to fairly offer thousands of dollars in incentives without draining cash flow. In return, employees are empowered with the ability to control their plan and earn substantially lower deductibles. The entire population is engaged and the high-risk employees receive support, resources, and motivating financial incentives to make healthy changes. Combining advanced wellness programs with deductible OBIs allows companies to achieve over 95% participation and give the entire population the power to identify and address health risks to achieve health goals.
###
Sources:
1. "Benefits Breakthrough: How Employees and Their Employers Are Navigating an Evolving Environment." Insights from MetLife's 12th Annual U.S. Employee Benefit Trends Study. MetLife, Inc. 2014. Print. 17 Nov. 2015.
2. O'Boyle, Ed, and Jim Harter. "Why Your Workplace Wellness Program Isn't Working." Gallup.com. N.p., 13 May 2014. Web. 17 Nov. 2015.
3. Coyle, John, Daniel Lyons, and Elizabeth Southerlan. The Business Case for Integrated Wellness. New York: Oliver Wyman, 2015. PDF.
About BeniComp
Founded in 1962, BeniComp later expanded its services to include BeniComp Advantage, a supplemental health insurance product that identifies health risks early and aims to proactively improve health in America. Offering wellness solutions in all 50 states, BeniComp's patent-pending policy has received numerous awards for innovation and best practices. BeniComp has been featured in Forbes Magazine, Employee Benefit News, The Wall Street Journal, USA Today, Medscape and other publications for its innovative approach to providing solutions. For more information about BeniComp, visit www.benicomp.com.
Sales Contact
Name: Julie Ramer
Phone: (844) 489-9519
Email: This email address is being protected from spambots. You need JavaScript enabled to view it.