Unleash the power of prevention
We create custom plans for self-funded employers that impact the root cause of disease and high costs.
What we see...
Hidden health risks
We analyze 96% of employees' blood data and 100% of their claims data to expose health risks and prevent high-cost claims.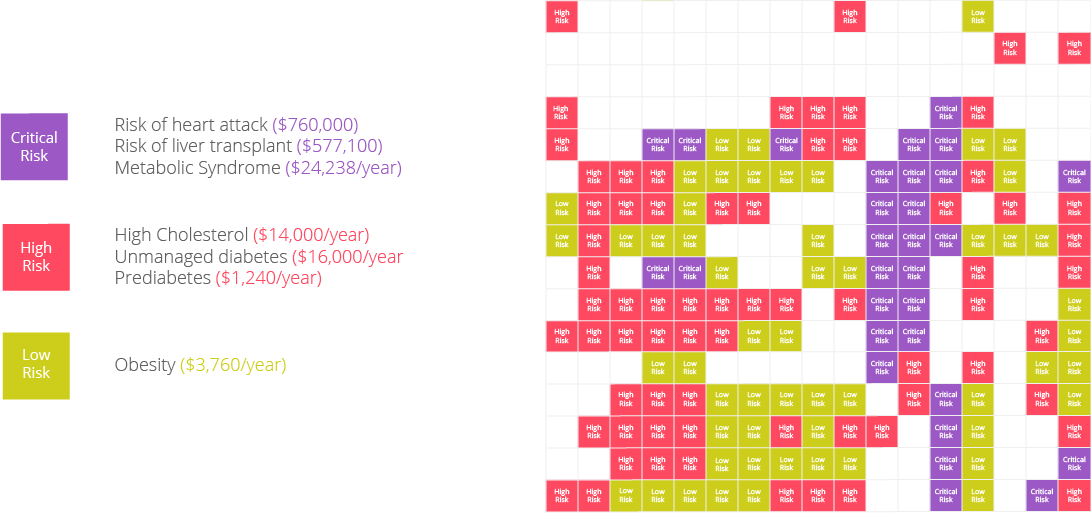 Healthcare costs decrease as health improves
Cost savings increase over time as Preventive Health Management (PHM) reverses health risks.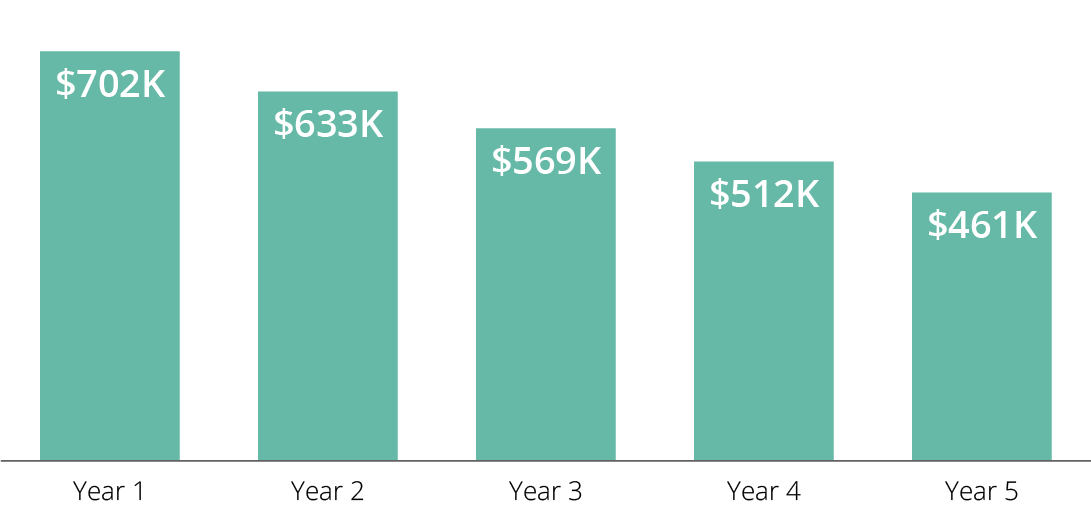 Custom plans for forward-thinking employers
1. Elevate your strategy 
Analyze the data from your current plan to identify it's weaknesses and opportunities.
2. Control costs
Activate best-in-class cost containment modules to make your plan resilient.
IncentiCare
Pharmacy Benefits Management
Stop Loss
Disease Management
Care Management
Utilization Management
Predictive Medical Management
Direct Primary Care
Reference-Based Pricing & Custom Networks
Telemedicine
Fraud & Abuse Advocacy
Claims Repricing
Surprise Bill Defense
Mental Health Services
3. Empower employees
Provide deductible incentives to healthy employees and reduce the impact of chronic disease with preventive health management. 
  
 Meet Kieran, our Director of Strategic Growth
Thank you Ingrid Harb, creator of the Women in Progress podcast channel for sharing this story!
Kieran Pittman is the Director of Strategic Growth at BeniComp Health Solutions. She leverages 12+ years in professional selling, communications, and operations with her expertise in health insurance to deliver strategic solutions to self-funded employers. Kieran is leading the movement toward the future of health insurance with an unprecedented approach that brings prevention, health data, transparency, and innovative technology to the industry. Her approach empowers entire populations to improve their health while lowering the cost of group healthcare, freeing up cash flow and reducing profit leak for companies. She has collaborated with over 1,000 advisers and 3,000 employer groups in addition to vetting over 250 of the nation's top cost-containment vendors to build BeniComp's self-funded health insurance model, IncentiCare. Her mission is to offer a best-in-class health insurance solution that exposes hidden fees and aligns population health with organizational goals. Many say that Kieran holds the best-kept secret in health insurance.
BeniComp in the news
Past Press Coverage
2022 - February 10: Business Observer - Employee benefits firm takes on big rivals with proactive, innovative approach
2021 - November 16: 1 in 4 Americans Have Diabetes and Don't Even Know It
2021 - November 3: World Diabetes Day
2021 - October 15: Steve Presser in Tampa Bay Business Journal
2021 - October: AXIOS - Screen Time with Steve Presser
2021 - October 4: Saving Local School Money on Health Coverage
2021 - Spectrum News: Benicomp Pivoting to Sustain Growth Amid Pandemic
2021 - March 29: Influencive: BeniComp's Steve Presser on the future of insurtech and how they are helping communities during the pandemic
2020 - December 31: Forbes: How Smart Medicine And Biotech Are Impacting Employer Health Plans In The Digital Age
2020 - October 6: Grit Daily: BeniComp is Offering Health Coaching in Philanthropic Initiative
2020 - September 21: The Doctor Whisperer - the BUSINESS of medicine: Steve Presser, President & COO of BeniComp Health Solutions discusses Mental Health
2020 - September 2: Tampa Bay Business & Wealth: Transformative technologies in health care: Navigating the crisis with collaboration and education
2020 - September 1: 83 Degrees Media: Growing company: BeniComp Health Solutions in Tampa
2020 - August 25: Bay News 9: Hillsborough County Tax Revenues Expected to Fall Short Next Year
2020 - August 13: Innovation & Tech Today: New Healthcare Plan Could Help You Pay Deductible
2020 - August 12: Abc Action News: BeniComp Health Solutions | Morning Blend
2020 - July 21: Employee Benefits Adviser: For adviser Kieran Pittman, clear communication wins clients over
2020 - June 26: St. Pete Catalyst: IncentiCare projected to save one company $10M in health costs
2020 - May 4: My Health Guide: BeniComp Launches IncentiCare, Giving Self-funded Employers the Power of Prevention
2020 - May 1: California Business Journal: BeniComp is Taking Health Insurance "Where it has Never Gone Before"
2020 - April 16: Grit Daily: Health Tech Company, BeniComp is Thriving During COVID-19 Outbreak
2020 - April 10: Spectrum Bay News 9: BeniComp is hiring new employees
2020 - April 1: New Tech from Tampa Startup Predicts Health Risks
2020 - March 30: Tampa Bay Business Journal: Meet BeniComp Health Solutions - a 2020 Best Places to Work Nominee
2020 - February 20: Grit Daily: BeniComp's 'Knowledge'-Based Approach to Healthcare
2020 - January 23: Spectrum Bay News 9 Airs interview with Steve Presser: Top Cities Report
2020 - January 10: St. Pete Catalyst-- St. Pete Shuffle Recognizes Steve Presser, BeniComp's new President
2019 - November: St. Pete Catalyst-- Influencer Interview of Doug Short
2019 - August 23: St. Pete Catalyst-- Tampa Innovation Company Lowers Healthcare Costs for Workers, Employers
2019 - August 7: Tampa Bay Newswire-- A Tampa Health-Tech Company Launches Ground-Breaking Healthcare Solution for Employers
2019 - May 6: Tampa Bay Inno -- BeniComp Wants to Lower Health Insurance Costs with Preventive Care
2019 - March 27: Tampa Bay Business Journal-- Meet BeniComp, a 2019 Best Places to Work Honoree
2016 - August 10: Yahoo Finance-- Florida County Partners with BeniComp to Save over $650,000 in Healthcare Costs Over Three Years
2016 - July 11: Tampa Bay Times-- Health Insurance firm BeniComp relocates headquarters from Fort Wayne to Tampa
National Recognition
BeniComp has been featured in Forbes Magazine, Employee Benefit News, The Wall Street Journal, USA Today, Medscape and other publications for its innovative approach in providing solutions. BeniComp has been awarded the Best Business Practice of the Year by SHRM in 2007.